Post Report: Jan 15. Fort Worth TX | Denzome Sampang
Ghajal Yatra Texas, Global Bhutanese Literary Organization, and International Nepali Literature Society, jointly organized Ghajal Utasv in Irving TX on Jan. 14.
Deep expression of pain and loss, lust and love, painted in a poetic expression; combinedly can be understood as Ghajal. However, these days in new generation, Ghajal isn't limited in its traditional framework. Today, political issue, social violence, every elements related to human lives are coming in Ghajal. It is known to be originated before the birth of Islam in Arab. Today, it is world famous, especially in Indian and Nepali literature.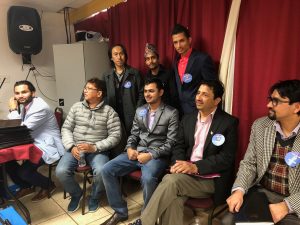 This poetic genre of literature which holds the beauty to bring emotion and equally keeps the capacity to entertain the audience. With that said, very phenomenal and grand Ghajal Utsav held for the first time in in Dallas Fort Worth TX, holding true to its definition as it really spell-bounded the audience. Organizing member Mr. Yadunath(Saldai) said, "event was divided into two phase. Each participants recited four Ghajal altogather". Ghajalkaar Radhakrishna Kafle, Pawan Lamichane, Bashu Adhikari, Patalo Antare, Sushant Kandel, Yadunath Adhikari 'Saldai', Ananda Mohan Khanal, Khemraj Gairaghare and Netra Archarya, were there to present their Ghajal to the hundreds of attendees.  Along with them, Bhagawati Poudel, Baal Joshi, Balaayar Pratyasi, Saru Kali, Iswari Karki 'Barsha' Satish Tripathi, Widur Dawadi, Nilhari Acharya and Bashu Poudel also recited the Ghajal. While, Raju Pande and D.P. Koirala gave a musical presentation in Ghajal. These Ghajalkaar came together from different cities, like Houston, Waco, Denton, Fort Worth, Watauga, Keller etc.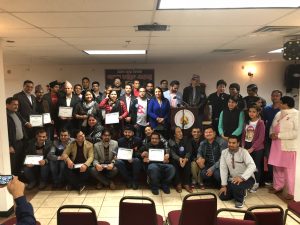 Main motto of the event was to bring Ghajal writing atmosphere in Nepali literary surface and to promote and preserve Nepali Language. While, in the event taking this fact under consideration, Famous Comedy and satire Poet from Nepal Mr. Shailenra Simkhada in his speech mention –"We scold Nepal from within Nepal. You all are far away and love Nepal, there is no more happiness than this that one Nepali can feel".
Eastern Creation Studio, Rabi Rimal and Kedar Upreti respectively supported on sound and camera. Gouri Joshi from Vastika, Roahit Subedi from Farmer Insurance, Krishna Lohani from New York Insurance, Denzome Sampang from Diamond Webhosintg, Bhim Karki from INLS and Bashudev Bhandari help the event financially and also provided an intellectual support. Lyricist Rohit Subedi presented his "Saarangi" music album as a token of love to best five Ghajalkaar. MC of the program was Suman Kaji. Every participant, invitees and audience hugely appreciated the event. In fact, it was grand literary program of its kind ever happened in DFW metroplex.     (See below, the live recording version of the event)