GlobalpostInfo Report: Denzome | Fort Worth | May 24, 2020
"Wasadekhi Punarwaasasamma (वासदेखी पुनर्वाससम्मा)" – the book by Dr. Laxminarayan Dhakal was officially released yesterday over the online zoom conference organized by Literature Council of Bhutan(LCOB). The event kicked off at morning 8 AM USA eastern time on 23 May.  The book includes Bhutanese refugees' exile struggling stories in the form of writer's self- memoir.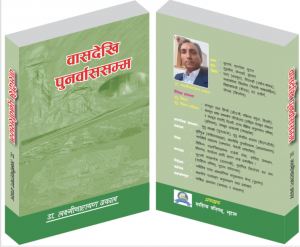 It is well known that Coronavirus is wreaking havoc and terrible damage to human life, due to which any mass gatherings are restricted. So, event was hosted online. In the Nepali literary diasporic history, this could be probably for the first time, book is been launched online, live in Facebook with such grand participant from around the globe. 
To name few, speakers and attendees included Dr. Prof. Hariprashand Adhikari(Banarasi, India), eminent senior writer Krishna Dharabasi, Global Bhutanese Literary Organization president Denzome Sampang, senior writer Bhakta Ghimire(USA), Ramesh Gautam(Netherland), Yatiraj Ajnabi(Australia), Dambar Osti(Canada), Shivalal Dahal(USA), Yam Thulung(Nepal), Maniram Dhimal(USA), Dharmendra Timsina(USA), Ghanshyam Regmi, Pratiman Siwa, Rup Pokrel, Maya Bhattarai, Aavash Rikham, Khagendra Bhandari, J.N. Dahal, Naina Magar, CM Niraula, Hari Khanal and Ishor Regmi.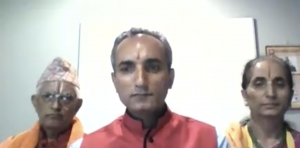 All these distinguished attendees shared their literary creations like reciting poems, reviewing the book and ideas and experience about literature and identity. Specially, litterateur Shivalal Dahal and senior journalist, writer Bhakta Ghimire was scheduled to review the book. While speaking, Dahal reveal that book is well written and mention that it carries the historical importance of all resettled and exile Bhutanese however he also pointed few weaknesses like lack of citation, some maturity etc. Well, in response to Dahal, Dr. Prof. Hariprashand Adhikari suggested that we need to search and look for the positive aspect of anything. Even our religious scriptures have lot of weak side but finding good out of it, is the good practice. On the other hand, eminent senior writer Krishna Dharabasi forward an idea how we can globalize our writings. He focused on book translation and online presence. On behalf of organization, GBLO president Denzome Sampang expressed congratulations and best wishes. 
The event was chaired by Ganga Lamitare, the president of Literature Council of Bhutan, Sanchaman Rai and Narayan Mishra provided technical support, and Khem Rijal excellently performed the role of host. 
All these distinguished speakers admitted that the book "Wasadekhi Punarwaasasamma (वासदेखी पुनर्वाससम्मा)" has come up with strong writing which will able to take Bhutanese Literature to the next level. It is worth reading book.