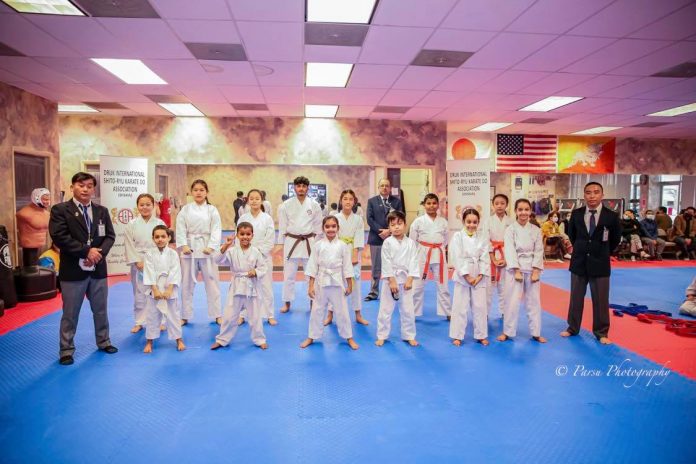 Updated 8:38 PM CT, Tue March 2, 2021
Druk International Shito Ryu Karate-Do Association (DISKA) has successfully concluded its two days (27-28 February 2021) first virtual Kata competition showing the excellent level of sportsmanship. Seventy-one individual competitors from ten dojos, including two DISKA Canada dojos and ten group kata competitors were the participants.
Since physical gathering is not applicable due to coronavirus pandemic, conducting the event remotely became inevitable. Considering this fact, DISKA has organized its fourth kata competition on virtual platform for the first time. Chief coach Sensei Ran Rai Harrisburg PA, Sensei Hemant Ghising- Vermont, Sensei Nim Lama Harrisburg PA, sensei Yam Bista Columbus H, Sensei Danny Tamang Fargo ND, Sensei Dumpa Thapa Guelph CA, Sensei Mon Khadka Lethbridge CA, sensei Amer Subba Akron OH, Sensei Madan Rai Stone Mountain GA, Sensei Tek Nepal Pittsburgh PA, Senpai Navina Subba stone mountain GA , senpai Niraj Nepal Pittsburgh PA and Sensei Tula Dhakal Reynoldsburg OH were the panel of distinguished judges who evaluated the participants' performance through their computer screens. Well, local judges were present in person though.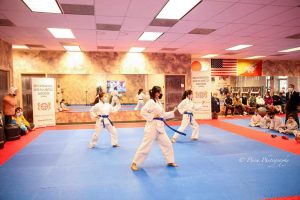 List of group and individual kata standings are as follows given in the chart.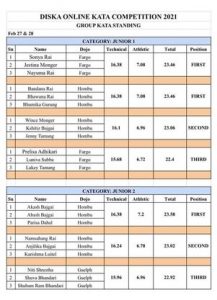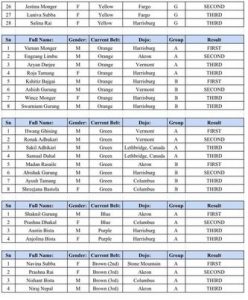 The second day was specially focused on allowing time for guests' speeches and showcasing the selected kata finals.  Special guest Mr. Bishnu Ramdam, Akron community leader said that DISKA has been putting great effort engaging the youths in creativity through sports. Similarly, Mr. Denzome Sampang the community leader for Texas said "To shape the community with positive thinking and to remain fit and fine mentally and physically sports play vital role. And DISKA has become ideal organization guiding and training the youths to meet the sports objectives."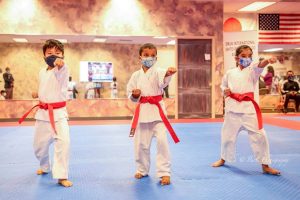 Mr. Buddha Adhikari – Fargo Dojo parent, while speaking praised DISKA for teaching art, discipline, and values to their kids. Quoting bitter experience, Mr. T.B. Gurung, Harrisburg community leader emphasized the need of discipline and learning to cooperate and follow the prevailing system of American community. He further added, DISKA has emerged as great help to address these shortcomings. The young business entrepreneur Mr. Arjun Subedi mention that DISKA has been deeply rewarding for community, he is always there to support it from his end.Well, there were many other special guest speakers. To name some, Mr. Deo Raj Rai (Kirat Cultural Society of North Dakota), Mr. K.P. Gurung (Harrisburg Community Leader), Mr. Prem Rana (The Stepz Creative Circle Representative), Mr. Santosh Timsina (President of Bhutanese Community Lethbridge).
Shito Ryu Karate-Do is form of martial art which carries value of Development, Discipline and Dynamism like many other sports. Its main purpose is to practice defense, train body physically, and mentally and learn discipline. This game is played in large part of the world irrespective of age.
DISKA, nonprofit organization has around ten dojos in US and two dojos in Canada. It has the legacy of decades connecting back history of Bhutanese refugee camps.
Sensei Madan Rai was the master of ceremony, Sensri Raj Magar, and sensei Bishal Gurung were the time recorder and Robin Gurung and Parsu Adhikari were the technician to handle social media broadcasting live. With golden words from Former National Coach of Malaysia, United States and Puerto Rico, Sensei Dr. Ravee Raghavan, 8th Dan Shito Ryu and followed by thank you speech from Sensei Dr. Hemant Ghising, DISKA president, the event was concluded.