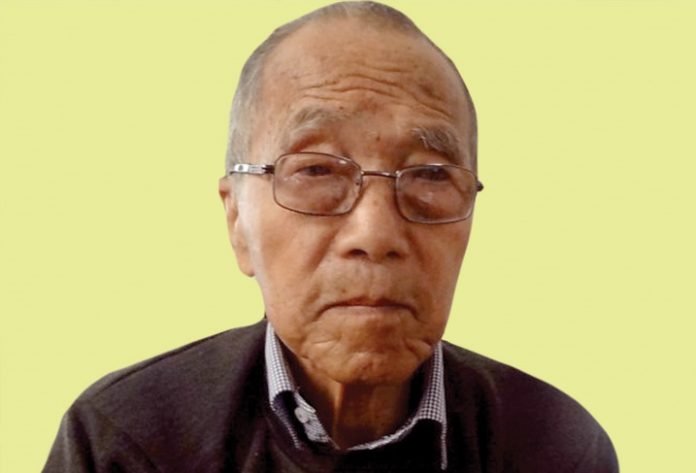 Post Report: March 6, 2018 Fort Worth
Reports from multiple sources states that Nepali Literature icon, eminent writer passed away Tuesday evening in Darjeeling district of West Bengal state, Indian. Born in February 3, 1927 (age 91) and toke his last breath in March 6, 2018 who was suffering with illness quite seriously after his wife Maya Devi being demised in on August 27, 2017.
He brought a revolution in Nepali Literature through the movement called "Third Dimension (तेश्रो आयाम)" in association with Iswor Ballav and Bairagi Kainla. Later he propounded Lila Lekhan.  Another eminent Nepali Literature writer Krishna Dharabasi have been advocating these both of the literary movement. In short form, he is famously known by I.B. Rai who entered literary field, especially in Nepali literature approx.1950. Since then he ruled the Nepali Literature. Vipana Katipaya, is his very first book which made him established in Nepali Literature. It is the collection of short stories published in 1960. Some the stories from this book is been tough in different grade in different schools and colleges. In-fact his major writings are included in different Universities' syllabus. His famous novel Aaja Ramita Cha was published in 1964.
He was recipient of many literary awards and honors. Worth to mention some of them are Sahitya Akademi Award, Jagadambashri Puraskar and Agam Singh Giri Smriti Puraskar etc. To add one more notable honor; Tribhuvan University awarded him with honorary doctorate degree last year.
Many prominent Nepali Literary figure from Darjeeling has acknowledged that his demise is very huge loss to Nepali Literature which is irreparable. Let us see some of the screenshots from Facebook wall.