If the door of repatriation opens, most of the third country resettled Bhutanese also want to return home
Dikesh lama,29 November 2017,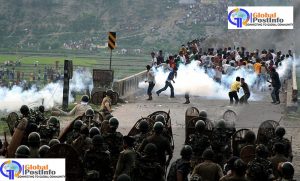 Beldangi, Jhapa/When Lochhampa (southern Bhutanese) fled from their home in 1990, they tried so many times to return their own home by different movements and it is still runnin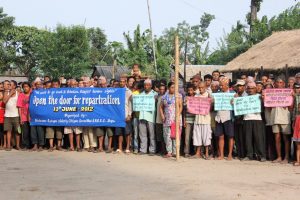 g. Around dozen parties and organizations opened in the exiled period. Now, maximum are closed. Although some of the organizations are still working on the behalf of repatriation, determining it is the final and permanent solution of Nepali speaking Bhutanese problem. They are hoping repatriation now, after stopping the process of third country resettlement announced in the last meeting of concerned organization held in United Nation High Commissioner for Refugees (UNHCR) sub-office of Damak just before one week.
Mr. Santa Bir Ghale, announcer and deputy chairperson of Repatriation of Bhutanese Refugee Elder Ci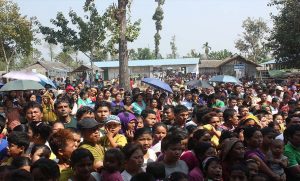 tizen Committee, has kept his opinion that concern organizations have to help to implement the repatriation as the fundamental rights for Bhutanese Refugees. The seventeenth step of repatriation discussion with high-level team of ministry has verified that out of 12500-population residence of 1950 huts of the Khudunabari Bhutanese Camp, only 293 were found as a pure Bhutanese in May 2003. After the result, many Bhutanese got angry and started to pressure that verification should be done once again. Due to the debate, the verification had totally stopped and has no sign of verification till date i.e.14 years. However, some of the organization are still running their activities on the behalf of repatriation in time and time.
        Mr. Kirshna Bir Tamang, coordinator, National Reconciliation Comm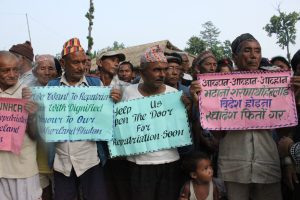 ittee, has sent memorandum to main office of UNHCR in Jeneva, saying more than 5 thousands of Bhutanese Refugees are interested to go back to their home, among 9 thousands  Bhutanese in Bhutanese camp now. According to Secretary of Bhutan Freedom Peoples Forum, Mr. Dhan Bir Subba claimed that if the door of repatriation open then, maximum resettled Bhutanese want to go back to their own home. Time has crossed more than one-decade, the movement of repatriation has made Narpati Dhungel, Purna Bahadur Tamang and Sah Bahadur Siwa martyrs. Everybody has remembered the historical movement in the Bhutanese Refugee history. Now, there are more than one lakh 5 thousands Bhutanese emigrated in different 8 countries according to UNHCR. In the beginning, three option were given by UNHCR for the repatriation, local integration and third country resettlement. However, only third country resettlement was implemented. The right of Bhutanese to go back to their home has not been implemented till now. The last meeting held in UNHCR sub-office of Damak has taken a little hope to the repatriation team because the third country new process has stopped from now on. "The team of repatriation hoped that it may open the door of repatriation because the process of resettlement has been closed" said Mr. Tika ram Rasaily, secretary of Beldangi Camp, mentioning about discussion team.
      The Bhutanese Refugees, victim of Nationality are asking question to the UN and international rule and conventions owner countries that is there right to go back to their home or not? "If the UN member country contempt the universal declaration of human rights, the human rig
hts will be limited only in the book not in the behavior", said human rights activists. Otherwise, why the Bhutan membership owner country of 1971, does not respect the human rights.  Why the other UN member countries do not pressure the Bhutan for implementation of human rights? Bhutanese Refugees are asking these questions from 25 years, hoping the answer until now.
For Global post a video story by Dikesh lama From Beldangi Jhapa Nepal.
Click below to see historical report based Documentary