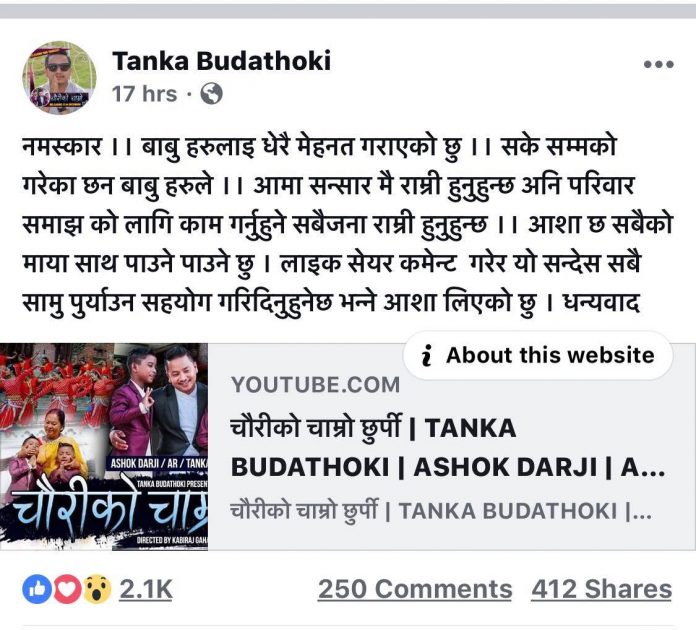 GlobalPostInfo,
Ashok Darji won the Millions heart through his first song "MAAN BINA KO DHAN" with famous and talented singer and music director TANKA BUDATHOKI.
Darji used to sing the song on street for his living. A Nepali Youtuber DJ Rupak bring him on Limblights through melodious songs and painful interviews. After that Globalpostinfo senior chief editor/Program producer also report his life and condition, while limelights goes viral. From that day his future careers on musical journey march on #1 trending on you-tube.
Ashok Darji is renown Child Artists now in Nepali music industry. with the love of his followers, he settles his family on wonderland. same with applause love and respect Ashok Darji and his Guru Released song 'Chauriko Chamro Churpi' on 13th Dec 2018. That song also broke the record of #1 trending YouTube on Qatar. UAE. Kuwait, Saudi . Again this heart touching song breaking all the previous views record which is spreading like fire. Mainly, this song delegates to all Mother's, who worked hard.
Meanwhile, Tanka Budathoki mention happiness and regards through his facebook "नमस्कार ।। बाबु हरुलाइ धेरै मेहनत गराएको छु ।। सके सम्मको गरेका छन बाबु हरुले ।। आमा सन्सार मै राम्री हुनुहुन्छ अनि परिवार समाझ को लागि काम गर्नुहुने सबैजना राम्री हुनुहुन्छ ।। आशा छ सबैको माया साथ पाउने पाउने छु । लाइक सेयर कमेन्ट गरेर यो सन्देस सबै सामु पुर्याउन सहयोग गरिदिनुहुनेछ भन्ने आशा लिएको छु । धन्यवाद"
In this music video, Vocal given by Tanka Budathoki, Ashok Darji & Aryan Budahtoki (AR). Lyrics and Music composed by Tanka Budathoki. Model artist appearing Tanka Budathoki himself, Ashok Darji and AR Budhathoki, DJ Rupak, Bashu Kala Mainali, Deepika Sharma. A cinematographer by Saurav Lama Edited by Arjun GC. Choreographer by Kabiraj Gahatraj Colorist done by Renish Phago. All Video COncept by Tanka Budathoki with Direction of Kabiraj Gahatraj.
Watch Video Right Below :